C.S. Navy Mutant Seals R.C.C. (Rifts Earth):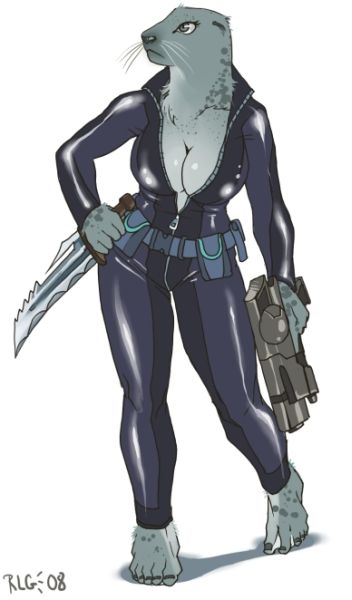 When the Coalition Navy began a development program for mutant dogs for special roles, there was a second program started right around the same time. Instead of using mutant dogs, it was decided that seals would be used for the experimentation. In the past, the US Navy used Sea Lions for various purposes so it is not truly an unknown concept. Pinnipeds has a variety of advantages over canines as far as being able to dive far longer and deeper. The harbor seal, also known as the common seal, was decided to use as the basis. They had a resurgence with the coming of the rifts and much of the pressure from man removed from them even though never threatened like many other seal species such as the monk seal.
The program is considered a success by the developers with a soldier who can dive almost ten times as long as Sea Dogs and virtually immune to the bends. Their diving ability is so great that they can make dives unaided by diving gear. While diving, their lungs compress and their pulse rate reduces to a few beats per minute. They also appear to be longer lived than mutant dogs. It is believed that they will have a life span of around 45 to 55 years with females living about ten years longer. None have yet aged to check this trend for certain. Maximum recorded depth for a Mutant Seal is around fifteen hundred feet. Even though fully biped, they tend to be slower on land than Psi-Hounds or humans. They are also less tough and strong than psi-hounds. As well, they lack the superior psychic sense of the psi-hounds and their loyalty is considered less than that of the mutant canine. They are extremely social animals but a small number have went rogue. They are less likely to follow orders without question than mutant canines. If rogues are found, they are generally killed on sight.
Training is extremely similar to that of Sea Dogs although water skills are even more emphasized. They are also trained the fundamentals of demolitions and disposal of explosives. Like Sea Dogs, few are trained how to read and write including officers. Many dislike the use of scuba gear even though they are trained in the use. There is a joke among many of these mutant seals that they are the "True" Navy Seals. There is less of an emphasis on ground skills compared to Sea Dogs. There is a rivalry between the mutant seals and mutant dogs of the Coalition Navy. The rivalry is generally more or less friendly. Still, the numbers of Seals in Coalition Navy is tiny compared to that of Sea Dogs. Virtually all serve in the Navy forces assigned to Lone Star.
R.C.C. Requirements:

None, other than the mutant animal must be relatively intelligent, loyal and obedient. All substandard creations (physically or mentally) are destroyed or used in other areas of research as lab test animals.


Player Character Note:

Player characters who are not CS troops / officers must either be "feral" renegades (runaway mutants/deserters) or the Free Born offspring of runaway mutants. In the first case, they are considered dangerous traitors in need of termination. In the latter case, the mutant is considered to be a hopelessly corrupt and dangerous "feral free-born" and destroyed whenever encountered.


Alignments:

Any, but most Mutant Seals lean toward principled, scrupulous, unprincipled, or aberrant. Those of aberrant and principled are comparatively uncommon with scrupulous and unprincipled being more common than with psi-hounds. Characters who are anarchist, miscreant, or diabolic alignments tend to be loners and do not work well in a group unless they can be the leader.


Attributes:

I.Q. 3D6+2, M.E. 3D6+3, M.A. 3D6+2, P.S. 3D6+2, P.P. 3D6, P.E. 3D6+4, P.B. 3D6, Spd 2D6 running (6D6 swimming)


Hit Points:

10 +P.E. attribute number and 1D6 per level of experience.


S.D.C.:

20 plus those gained from physical skills.


Average Weight:

Male: 250 lbs (113.4 kg), Females: 200 lbs (90.7 kg)


Average Height:

Male: 6 foot (1.83 meters), Females: 5 feet 6 inches (1.68 meters)


General Physical Appearance:


Mutant seals tend to have a roundish and furry body which is covered with waterproof hair and layer of fat coating their body as insulation against cold waters. Has a thick neck with a small dog like head with no ears flaps. The nostrils appear distinctively V-shaped and there is a relatively large ear canal behind the eyes. Large eyes for good vision especially underwater. They have short arms and legs. Hands and feet have webbing for better swimming abilities. There is no tail.
Each individual has a unique pattern with either fine dark spots on a lighter background or light spots on a darker background. Mutant seals vary in color from brownish black to tan or grey. Their belly areas are generally lighter than the rest of their body.


Average Life Span:

45-55 years; add 10 years to females.


Natural Abilities:

Swim with 98% skill ratio with a +2 to strike, parry, and dodge underwater. Able to hold breath for up to 40 minutes and can dive down to depths of 1500 feet (457.2 meters) and are not effected by the bends. They are also resistant to cold (half normal damage) and has water resistant fur. Excellent underwater vision and hearing (although does not have true sonar)


Magic:

None.


Average P.P.E.:

3D6


Psionics:

01-25% are minor psionics; select four sensitive powers.


R.C.C. Skills of a Coalition Mutant Seal:

Speaks American & Spanish at 90% efficiency.
Basic Math (+10%)
Radio Basic (+10%)
Read Sensory Equipment (+10%)
Prowl (+10%)
Demolitions (+15%)
Demolition Disposal (+15%)
Paramedic (+15%)
Pilot: Warships and Patrol Boats (+10%)
Advanced Fishing (+10%)
Track & Hunt Sea Animals (+10%)
S.C.U.B.A.
Land Navigation (+5%)
Wilderness Survival (+5%)
W.P. Energy Pistol
W.P. Energy Rifle
W.P. One of choice
Hand to Hand: Expert
Hand to hand: Expert can be changed to martial arts at the cost of one other skill.

R.C.C. Related Skills:

At first level, the Mutant Seal can select five "other" skills, plus one skill at levels 3, 6, 9 and 12. Note: Mutant animals in the service of the CS are almost never taught to read, not even officers although Lone Star has some exceptions. Sea skills can be found on page 210 of Rifts® Underseas and again in Rifts® Sourcebook Four: Coalition Navy.

Communications: Any (+5%)
Domestic: Any (+10%)
Electrical: Basic Electronics only.
Espionage: Any (+5%)
Mechanical: Basic Mechanics and Automotive only.
Medical: None, other than the R.C.C. skill.
Military: Any (+10%)
Physical: Any, except acrobatics and boxing.
Pilot: Sail and motor boats (but not big ships or submersibles), water scooter, motorcycle, hovercycle, jet pack, and truck (+5%).
Pilot Related: Any
Rogue: None
Science: None
Technical: Any (+5%), except computer operation & programming.
W.P.: Any
Wilderness: Any (+5%)

Secondary Skills:

The character gets four secondary skills from the list, excluding those marked "None," at level one and two additional at levels 3, 6, 9, and 12. These are additional areas of knowledge that do not get the advantage of the bonus listed in parentheses. All secondary skills start at the base skill level.


Standard Equipment:


Scuba Gear, Uniform, Dress Uniform, Tinted Goggles, Pdd Pocket Audio Recorder, Pocket Laser Distancer, Flashlight, Pocket Mirror, Cigarette Lighter, 100 Ft (30.5 M) of Lightweight Rope, Small Hammer, Four Spikes, 1D6 Animal Snares, Infrared Distancing Binoculars, Portable Language Translator, Knapsack, Backpack, Utility Belt, Air Filter, Gas Mask, and Canteen, Filter and Gas Mask, Backpack, and a Canteen.
Armor is Coalition "Dog Pack" DPM Riot armor modified for use by the Seal (Light or heavy - 30 M.D.C. for light and 50 M.D.C. for heavy) or CSNA-1 Lightning Strike SCUBA Armor (60 M.D.C.) Non-Commissioned Officers are generally issued Coalition CA-4 "Shark" body armor (100 M.D.C.)
Weapons include a Survival Knife, a pair of Vibro-Knives or vibro-claws (many also have a Vibro-Saber or Neural Mace), C-18 Laser Pistol [Non-Commissioned Officers usually carry C-20 Pistol], choice of CP-40 or CP-50 assault rifle, eight e-clips, and three fragmentation and two plasma grenades.


Money:

All the mutant's basic needs are provided for by the CS military, a place to sleep, food, clothing, medical treatment, basic supplies and equipment, and limited access to military facilities. They are also given a token monthly salary of 90-130 credits for personal items and edible goodies. Their treatment is between that of Psi-Hounds and Battle Cats, treated with a certain amount more freedom while on base or onboard ships although still carefully monitored.


Cybernetics:

Generally, none to start, although as experimental animals, about 10% have 1D4+2 bionic extras and a tiny minority are partial conversion cyborgs.


Identification Coding (I.C.):

: The same dual ID system as the Dog Boys.


Note:

Any Mutant Seal who goes AWOL or "feral" is hunted down and terminated if found. Of course with their ability to swim in the open ocean, catching them can be extremely difficult.


Typical Mutant Seal Mission:

Underwater intelligence gathering, underwater protection of military assets, underwater demolitions and demolition disposal, and amphibious assault operations (first wave assaults)


Maximum Rank:

Non-Commissioned officer up to Sergeant Major.


Note:

There are approximately 1,200 Mutant Seals in CS military service. Most are assigned to Lone Star naval forces although a handful are assigned to the Great Lakes naval forces.
---
[ Altarain TM, Bandito Arms TM, Brodkil TM, Chipwell Armaments TM, Coalition States TM, Cyber-Knight TM, Federation of Magic TM, Free Quebec TM, Golden Age Weaponsmiths TM, Horune TM, Iron Heart Armaments TM, Kankoran TM, Kittani TM, Kydian TM, Larsen's Brigade TM, M.D.C. TM, Mechanoids TM, Mega-Damage TM, Megaversal Legion TM, Millennium Tree TM, Mutants in Orbit TM, Naruni Enterprises TM, Naut'Yll, New Navy TM, New Sovietskiy TM, NGR TM, Nog Heng TM, Northern Gun TM, Phase World TM, Psyscape TM, Rifter TM, SAMAS TM, S.D.C. TM, Shemarrian TM, Splugorth TM, Stormspire TM, Sunaj TM, Tolkeen TM, Triax TM, Wellington Industries TM, Wilk's Laser Technologies TM, Xiticix TM, and Zaayr TM are trademarks owned by Kevin Siembieda and Palladium Books Inc. ]
[ Beyond the Supernatural®, Heroes Unlimited®, Nightbane®, Ninjas & Superspies®, Palladium Fantasy®, and Rifts® are registered trademarks owned by Kevin Siembieda and Palladium Books Inc. ]
Image drawn and copyrighted by "Soap."
More "Soap" artwork at DeviantArt
Writeup by Kitsune (E-Mail Kitsune).
Copyright © 2008, Kitsune. All rights reserved.
---