Steyr TMP [Submachine Gun]: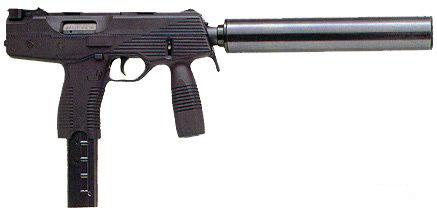 In 1994 Steyr of Austria announced its newest submachine gun to the world. Although the compagny had several diffferent designs of submachine guns in the market during the last decades, these had been overshadowed by the AUG, both outside AND inside Steyr. Their new TMP (Tactical Machine Pistol) was a totally new design, and a true weapon for the nineties. Like most of its modern brothers its stock is made entirely from polymers, with only the barrel and some of the internal parts made from metal. It is a very reliable gun, and during tests engineers from Steyr found that even though the TMP fires from a closed bolt, they could not produce cook-offs (cartridges going off because of a hot barrel) even after firing more than three hundred rounds in full-auto mode through the gun. The closed bolt system does not uses a blowback system, but relies on the rotating Barrel for lockup.
The TMP has a vertical fore grip molded into its stock, but it has no buttstock. For stability it can be fitted with a sling, which is slung around the shoulder. The shooter then pulls the gun forward, and holds it stabile. It is however light enough that the gun can be fired with one hand, at least in the semi-auto mode. A variety of different accessories is available, incluiding a sling, a silencer (pictured above), sights and lamps.
The TMP is delivered with a 30 round magazine standard, but 15 round magazines are also available.
Weight: 2.88 lbs (1.3 kg) (empty)
Caliber: 9 mm
Barrel: 6 inch (15 cm)
Length: 11.19 inch (27.98 cm)
Action: Locked Rotating barrel.
Mode of Fire: Semi-Automatic / Full-Automatic
Rate of Fire: 800 to 900 rpm depending on ammo
Range: 250 ft (76.2 m)
Magazine: 15 / 30 round
Cost: $ 900 ?
Made in: Austria
Special: Polymer construction, lightweight. Very ergonomic and reliable Many accesoires available.
---
[ Steyr, and TMP are copyright of their respective owners. ]
Writeup by Mischa (E-Mail Mischa ).
Copyright © 1999, Mischa. All rights reserved.
---