Bushmaster Arm Pistol [Submachine Gun]: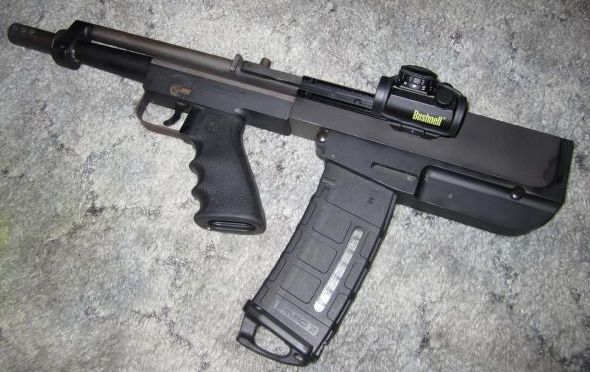 The Bushmaster Arm Pistol can be considered a long pistol, short rifle, or a submachine gun. It fires the 5.56 x 45 NATO round. Civilian versions were semi-automatic only but military models would have been select fire - able to fire both semi-automatic or fire fully automatic.
The Bushmaster Arm Pistol was originally designed around the concept of an aircrewman's emergency weapon, stowed under the aircraft seat, for use after ditching. It was even submitted to the United States Air Force for evaluation and testing, but was not adopted.
Designed by Mack Gwinn, it was originally manufactured by Gwinn Firearms Comany which was later acquired by Bushmaster Firearms International. The weapon was produced from 1977 to 1990. Production ceised in 1991 when Bushmaster was acquired by Quality Products Company. Bushmaster now produces mostly AR-15 type weapons. Mack Gwinn has stated in the recent past that he may decide to bring back the Arm Pistol, in an updated and improved form, in the future.
The weapon is a bullpup style design with the magazine behind the trigger assembly and pistol grip. Otherwise, the weapon shares a large number of components in the lower reciever with the AR-15/M-16. It can use standard M-16/AR-15 magazines although standard were 30 round magazine. Even so, the firearm can be considered a new design, having a tipping-block bolt system combined with a gas system similar to the AK-47 rifle.
| | |
| --- | --- |
| Weight: | Empty 5.25 lbs (2.38 kg). Loaded 6.25 lbs (2.84 kg). |
| Caliber: | 5.56x45 mm NATO (.223 Remington). |
| Barrel Length: | 11.63 inches (29.53 cm) |
| Overall Length: | 20.63 inches (52.39 cm) with Flash Supressor. |
| Action: | Gas Operated. |
| Mode of Fire: | Military: Semi automatic or fully Automatic Civilian: Semi Automatic only. |
| Range: | 900 feet (275 m). |
| Magazine: | 5, 10, 20, 30, or 99 rounds(Can uses M-16 Magazines). |
| Cost: | $ 1,200. |
| Made in: | United States (No Longer Manufactured). |
| Special: | Compact bullpup type weapon. Uses a large number of M-16/AR-15 components including magazine. Has a flash supressor abel to be mounted on the barrel. |
---
[ M-16, AR-15, Bushmaster, Remington, and Gwinn Firearms Comany are copyright of their respective owners. ]
Writeup by Mischa (E-Mail Mischa ) and by Kitsune (E-Mail Kitsune).
Copyright © 2016, Mischa & Kitsune. All rights reserved.

---