Walther WA 2000 Sniper Rifle [Sniper Rifle]: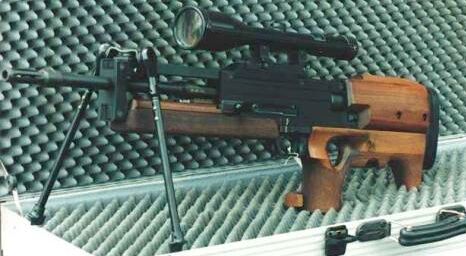 Probably the best Sniper Rifles ever made, the WA 2000 was originally designed as an Olympic target rifle but became popular as a Sniper Rifle. Only a total of 72 of these rifles were made in a total of three different calibers, .300 Winchester Magnum, .308 (7.62 Nato), and 7.5x51mm Swiss. The most comman caliber is the .300 Winchester Magnum which the rifle was original design to use. The .300 was choosen as the primary caliber because of its long range accuracy and its consistancy at all ranges.
The Rifle is a Semi Automatic and is bulpup in configuration. The bullpup configuration allows a compact design while still maintaining a 26" barrel. In comparison, The US Army M24 Rifle has a 24" barrel and is over 7" longer in total length. The WA 2000 fires from a closed bolt and uses a bolt with 7 locking lugs.
It is very accurate and the whole rifle was designed around the barrel. The Rifle has an adjustable trigger which operates a hammer, and the entire firing machanism can be removed as a unit from the lower frame.
The Rifle comes standard with Schmidt & Bender 2.5-10x56mm Scope, fluted barrel with Muzzle Brakes, and Wood Stocks. The rifle uses a detachable six round magazine.
There are two major complaint about the rifle. The Firts is that Rifle's accuracy drops when the barrel gets hot. The second is the weight is its weight. The Rifle weighs over 15 pounds.
(In game terms, give the WA 2000 Rifle a +1 bonus or the equivilent in terms of accuracy)
| | |
| --- | --- |
| Weight: | 15.32 lbs (6.95 kg) empty. |
| Caliber: | .300 Winchester Magnum, 7.62 NATO (.308 Winchester), and 7.5x51mm Swiss. |
| Barrel Length: | 25.59 inches (65 cm). |
| Overall Length: | 35.62 inches (90.5 cm.) |
| Action: | Gas operated Rotating Bolt (Semi-Automatic.) |
| Mode of Fire: | Semi Automatic only. |
| Range: | 3280.8+ feet (1000+ meters). |
| Magazine: | 6 round box magazine. |
| Cost: | $ 10,000+. |
| Made in: | Germany. |
| Special: | Incredibly High Quality and Very Accurate. Probably the best Sniper Rifle ever made, is bulpup configuration. |
---
[ Walther, WA 2000, Winchester, and Schmidt & Bender are copyright of their respective owners. ]
Writeup by Mischa (E-Mail Mischa ) and by Kitsune (E-Mail Kitsune).
Copyright © 2001, Mischa & Kitsune. All rights reserved.
---