Franchi SPAS-12 [Shotgun]:

Luigi Franchi are well-known for sporting shotguns of the highest quality, but their SPAS (Special Purpose Automatic Shotgun) series has become well known as a favorite police forces and special forces. It was designed for police and military use and aims to be rather more efficient in that role than conventional civil shotguns which were designed with sporting use in mind and have been 'misappropriated' to police use. The firm claim that their design gives good accuracy with little training; instans hits in all kinds of employment; great firepower; the ability to launch grenades if required; and low maintenance. It has also become a favorite among movie makers, appearing in such blockbuster movies as Jurassic Park and The Matrix.
The SPAS Model 12 is a shortbarrelled semi-automatic shotgun with a folding butt which has been configured so that it can be locked under the armpit and allow the gun to be used one-handed. The receiver is of light alloy, while the barrel and gas cylinder have been hard-chromed to reduce the risk of corrosion. All the external surfaces are sand-blasted and phosphated black. An unusual provision is for the gas cylinder to be shut off, converting the weapon to a slide-action repeater; the fore end can be unlocked to act as the reloading slide in this mode, which is designed for use with certain types of light ammunition which will not cycle the gas action reliably.
| | |
| --- | --- |
| Weight: | 9.6 lbs (4.3 kg) |
| Caliber: | 12 Gauge |
| Barrel Length: | 21.5 inches (54.6 cm) |
| Overall Length: | 31 inches (78.7 cm) (stock folded) |
| Action: | Gas Operated or Pump Action Selectable |
| Mode of Fire: | Semi-Automatic or Pump Action |
| Range: | 300 ft (90 m) |
| Magazine: | 8+1 rounds |
| Cost: | $ 1000 |
| Made in: | Italy |
| Special: | Able to switch between Semi-Auto and Pump-Action |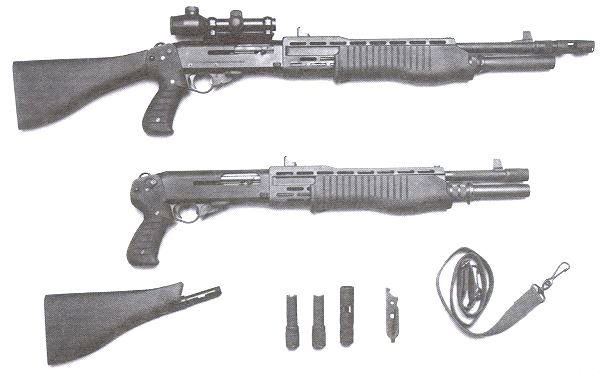 ---
[ SPAS-12 and Franchi are copyright of their respective owners. ]
Writeup by Stryker (mailto:stanryker@home.com).
Copyright © 2000, Stryker. All rights reserved.
---