Smith & Wesson Model 500 [Revolver]: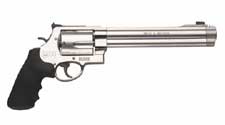 The Smith & Wesson Model 500 is an X-Frame double action revolver from Smith & Wesson and is chambered in the the massive .500 Magnum Cartridge and can fire .500 Special rounds as well.
The Smith & Wesson Model 500 is stainless steel. The Model 500 is available with 4, 8.125 or 10.5 inch barrels with full lug. 1 inch of the barrel length is dedicated to the standard recoil compensator. The grips and stock on the Model 500 are Houge Dual Density Monogrip energy absorbing grips. The revolver has a 5 shot cylinder. The front sights sights are fixed on the 4 inch barrel and adjustable on the others. The rear sights are adjustable on all lengths.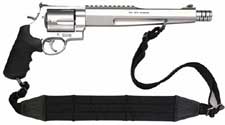 | | |
| --- | --- |
| Weight: | 3.5 lbs, 4.5 lbs, 5.1 lbs (1.6 kg, 2.0 kg, 2.3 kg) empty. |
| Caliber: | .500 S & W Magnum (Can fire .500 Special as well) |
| Barrel Length: | 4 inch (10.2 cm), or 8.125 inch (20.6 cm), or 10.5 inch (26.7 cm). |
| Action: | Double Action. |
| Range: | 300 ft (91.4 m). |
| Cylinder: | 5 rounds . |
| Cost: | $960. |
| Made in: | America. |
| Special: | Very strong hunting Handgun. It is made in the most powerful pistol cartrige currently available. |
---
[ S&W, Smith & Wesson, S&W Model 500, and Hougue are copyright of their respective owners. ]
Writeup by Pochi
---