Ruger Super Redhawk [Revolver]: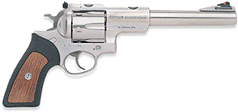 Introduced well over a decade ago, the Super Redhawk is Rugers top of the line revolver. It is a large, not to say huge, weapon designed for hunting.
The Super Redhawk is a conventional Double Action revolver. Made of high-grade investment cast Stainless Steel, it is a very strong gun indeed. The front of its frame has been extended for extra strength, and on top of the frame there are cutouts for the mounting of Rugers own pistol scope rings. The cylinder is locked safely in place at both its front and its back, and it is released by a push-type release on the left side of the frame. The aft sights are fully adjustable, and the front sight can be easily switched from one type of sight to another, as the shooter wishes. The entire trigger mechanism can be pulled from the bottom of the frame for easy cleaning. The grips are made of recoil absorbing rubber, with nice looking wooden inserts. The Barrels are either 7.5 inch or 9.5 inch long.
The main safety of the revolver is a transfer bar, which prevents the hammer from striking the firing pin unless the trigger is pulled.
The Super Redhawk holds six rounds of ammunition in its cylinder in either .44 magnum, .454 Casull, and .480 Ruger. The differences between the variants (apart from the barrel caliber) are that the cylinder of the .454 Casull and the .480 Ruger are unfluted, and that the .454 Casull and .480 Ruger have a matte grey finish. The .454 Cassull can also use the .45 Long Colt Cartridge.
| | |
| --- | --- |
| Weight: | 3.3 lbs (1.5 kg) empty. |
| Caliber: | .44 Magnum, .454 Casull (Can also use .45 Long Colt), and .480 Ruger |
| Barrel Length: | 7.5 inch (18.75 cm) / 9.5 inch (23.75 cm). |
| Overall Length: | 13 inches (32.5 cm) / 15 inches (37.5 cm). |
| Action: | Double Action. |
| Range: | 300 ft (90 m). |
| Cylinder: | 6 rounds . |
| Cost: | $ 618 (.44 magnum) to $ 745 (.454 Casull / .480 Ruger). |
| Made in: | USA. |
| Special: | Very strong and dependable. Very accurate, and is made in powerful large calibers. Made entirely from stainless steel and comes with scope rings. |
---
[ Super Redhawk, Ruger, and Casull are copyright of their respective owners. ]
Writeup by Mischa (E-Mail Mischa ) and by Kitsune (E-Mail Kitsune).
Copyright © 2000, Mischa & Kitsune. All rights reserved.
---