Heckler & Koch HK69A1 [Heavy Weapons]: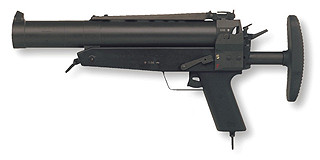 This weapon is Heckler & Koch`s first entry into the market for grenade launchers. Consisting of a break-open design with a pistol grip and a retractable stock, the 69A1 distinguishes itself from most other grenade launchers by its impeccable workmanship and high accuracy. The low weight of only 5.8 pounds unloaded helps too.
The weapons good accuracy is obtained through a high-quality rifled steel barrel, and the HK69A1 can fire all standard 40 mm grenades on the market, incluiding (but not limited to) CS,HE, AP, nonlethal, and flares. The normally attainable maximum range with the weapon is 400 meters, and on top of the reciever are mounted a flip-up dual aperture for short ranges (50 and 100 meters) and a ladder sight for long range targets (100-400 meters).
Standard to the weapon are several attachment points for slings, a ambidextrous safety and a separate manual hammer. This last feature means that the launcher can be loaded and unloaded without being cocked.
Although the HK69A1 is of good quality, rugged and accurate, it is not in widespread use in the USA, because most police forces there use 37 mm grenade launchers for the delivery of tear gas and other crowd control rounds. The HK69A1 is not made in this caliber, and there are currently no plans to do so either. Although not in widespread use in the USA the launcher is the official grenade launcher of the German Army, and as such is reasonably common in Europe.
| | |
| --- | --- |
| Weight: | 5.8 lbs (2.62 kg) empty. |
| Caliber: | 40 mm |
| Barrel Length: | 13.2 inch (33 cm). |
| Overall Length: | 30 inches (74 cm) or 19 inches (47.5 cm) folded. |
| Action: | break-open action. |
| Mode of Fire: | Single shot only |
| Range: | 1330 ft (400 m). |
| Cost: | ? |
| Made in: | Germany |
| Special: | Relatively lightweight and small, with retractible stock. High quality and workmanship |
---
[ H&K, Heckler & Koch, and HK69A1 are copyright of their respective owners. ]
Writeup by Mischa (E-Mail Mischa ).
Copyright © 2000, Mischa. All rights reserved.
---