Vektor CR 21 [Automatic Rifle]: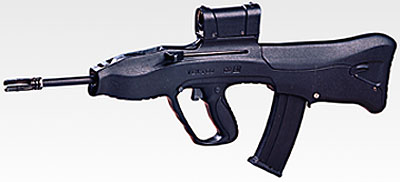 The Vektor CR 21 is a very futuristic looking bullpup rifle from South Africa. It is one of the weapons that have come out of that region, now that the Apartheid boycot has been lifted. Its futuristic looks are the result of the fact that the entire stock is made of a high-impact polymer. The only metal to be seen on the outside is part of the barrel and the flash-surpressor. This is even more "Plastic-Fantastic" than the Steyr AUG, and for good reasons too: This way the shooter does not have to worry about any metal heated by the African sun, nor is there much chance of dirt entering the weapon. The sights are a telescope with a special illuminated recticle. This recticle is illuminated by means of fiber optics, and does not require batteries.
Total construction of the weapon is very lightweight, although all the interior parts are still made of steel. The action is actually little more than the tried and tested mechanism of the AK-74 series of rifles, which is very reliable. The fire selector of the weapon can be found near the buttstock, and is double sided. The manufacturer is Denel industries, South Africa`s leading weapon manufacturer.
The Vektor is fed by means of 20 or 35 round magazines. Athough these are not NATO standard, it is not unlikely that a version of the rifle will soon be available which will accept NATO standard magazines.
| | |
| --- | --- |
| Weight: | 8.2 lbs (3.72kg) loaded! |
| Caliber: | 5.56x45mm NATO (.223 Remington). |
| Barrel Length: | 18.4 inch (46 cm). |
| Overall Length: | 30.4 inches (76 cm). |
| Action: | Gas operated rotating bolt. |
| Mode of Fire: | Semi Automatic / Fully automatic . |
| Range: | 1333 feet (400 meters). |
| Magazine: | 20 / 35 round box magazine. |
| Cost: | $ 800 ?. |
| Made in: | South Africa. |
| Special: | Innovative design, robust, compact, all polymer stock. The rifle is lightweight, and has a adustable optical sight as standard. |
---
[ Vektor, Vektor CR 21, Denel, Steyr AUG and Remington are copyright of their respective owners. ]
Writeup by Mischa (E-Mail Mischa ) and by Kitsune (E-Mail Kitsune).
Copyright © 1999, Mischa & Kitsune. All rights reserved.
---