KEL-TEC SU-16 Rifle [Automatic Rifle]: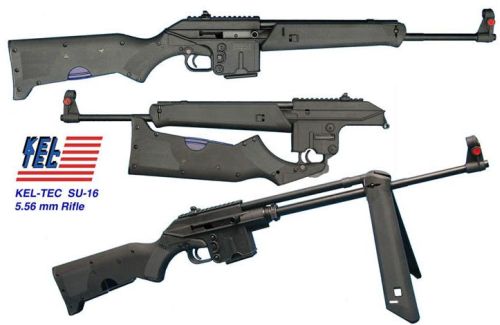 Unusual semi-automatic rifle which uses the well proven M-16 breech locking system and a conventional gas piston operation. The rifle is compatible with standard M-16 magazines. The reciprocating bolt handle and the magazine catch are on the right side, while the push bolt safety can be changed to work from either side of the rifle. With the exception of the barrel, bolt and mechanism the SU-16 is made entirely of high impact reinforced polymer materials and is very lightweight.
What makes the SU-16 unusual is that the stock and trigger mechanism can be folded forward for added safety and to facilitate secure storage or carry under extreme conditions (Makes the weapon easier to conceal as well). The length of the rifle when folded is reduced from around 37 inches to around 26 inches. Another unusual feature is that the stock can be used to store additional magazines. Two magazines of 10 rounds or one magazine of twenty or thirty rounds can be stored. The sides of the foreanr folds down to form a bipod for increased accuracy. The rifle also has an integrated Picatinny rail for mounting different sight systems.
| | |
| --- | --- |
| Weight: | 5.0 lbs (2.3 kg) empty. |
| Caliber: | 5.56x45mm NATO (.223 Remington). |
| Barrel Length: | 18.4 inches (46.74 cm). |
| Overall Length: | 37.4 inches (95.0 cm) open and 26.4 inches (67.1 cm) folded. |
| Action: | Gas Operated. |
| Mode of Fire: | Semi Automatic only (Likely can be converted to fully automatic). |
| Range: | 1200 feet (366 meters). |
| Magazine: | 5, 10, 20, 30, or 99 rounds (Can uses M-16 Magazines). |
| Cost: | $640. |
| Made in: | USA. |
| Special: | Unusual Folding Stock, Folding Bipod, can store magazines in stock, lightweight polymer construction, has integrated Picatinny rail, and accepts all M-16 magazines. |
---
[ SU-16, M-16, AR-15, KEL-TEC, and Remington are copyright of their respective owners. ]
Writeup by Mischa (E-Mail Mischa ) and by Kitsune (E-Mail Kitsune).
Copyright © 2004, Mischa & Kitsune. All rights reserved.
---