IMI TAR-21 [Automatic Rifle]: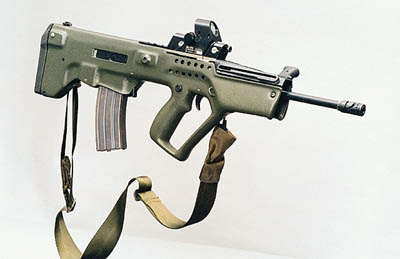 The TAR-21 (Tavor Assault Rifle 21 century)is a new battle rifle from IMI in Israel. It is the successor to their famous Galil line of rifles, and it is also in the running to become the new battle rifle for the Israeli army.
Although much of the rifles innards are derived from the Galil, it looks very different from the outside. This is because IMI have chosen a bullpup layout for this rifle, which results in a much more compact and handier weapon.
The stock of the TAR-21 is made of a high quality polymer, like those of many modern battle rifles. The grip has a full handguard molded into it, and the cocking lever is on the right side of the frame. Of note should be that the cocking lever and the cartridge ejection port can be switched from one side to the other, creating a fully ambidextrous rifle. Mounted on top of the frame is a Weaver type rail, which can carry a variety of scopes and acessories. Standard the rifle comes with a electronic dot sight.
Future versions of the TAR-21 include a Commando version with a shortened barrel which has been treaded to accept a silencer, a "micro" version (presumably in 9 mm), and the S-TAR-21 (Sharpshooting TAR-21) with a longer, heavier barrel, a standard bipod and a scope.
The magazines for the TAR-21 are of the M-16 variety, and all magazines of that shape can be utelized for the TAR-21.
| | |
| --- | --- |
| Weight: | 5.53 lbs (2.5 kg) empty, no scope. |
| Caliber: | 5.56x45mm NATO (.223 Remington). |
| Barrel Length: | 18.4 inch (46 cm). |
| Overall Length: | 28.8 inches (72 cm). |
| Action: | Gas Operated, Rotating Bolt. |
| Mode of Fire: | Semi and Fully Automatic . |
| Range: | 1000 feet (300 meters). |
| Magazine: | 20/30 round box magazine. |
| Cost: | NA. |
| Made in: | Israel. |
| Special: | High quality manufacturing, bullpup layout. Comes with optical dot sight. |
---
[ IMI, TAR-21, Tavor Assault Rifle 21 century, and Weaver are copyright of their respective owners. ]
Writeup by Mischa (E-Mail Mischa ) and by Kitsune (E-Mail Kitsune).
Copyright © 2000, Mischa & Kitsune. All rights reserved.
---