Fabrique National FNC (FN-FNC) [Automatic Rifle]: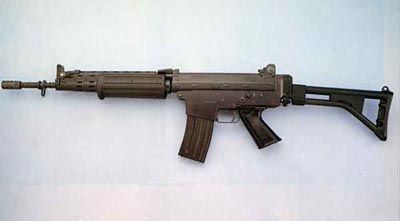 The FN-FNC is chambered in the 5.56 x 45 mm cartridge and is the successor to the FN-CAL. The FN-CAL were poor due to most customers being happy with the 7.62 catridge at the time. The FN-FNC Received a better acceptance due to NATO accepting the 5.56 Cartridge.
The FN-FNC is more reliable than the FN-CAL and is less expensive. It uses the rotating block from the FN-CAL. The FN-FNC is an excellent design which combines some of the best features from other famous designs, such as Kalashnikov AK-47, Colt/Armalite M16, and others. Steel, alloy, and plastic are used extensively in the FN-FNC with pressing and stamping heavily used during the manufacting process. The magazine well is NATO standard and will accept M-16 and similar types of magazines. The Rifle is fitted with a folding stock and can fire in single shot, three round burst, and fully automatic. A solid butt stock is also available.
In addition to being manufactured in Belgium, the rifle is produced under licence in Indonesia and a variant model is used in Sweden as the Bofors AK5. The FNC also was sold to some police forces around the world, and, in limited numbers for civilians - as a "Sporter" model, limited to semi-automatic mode only.
| | |
| --- | --- |
| Weight: | Standard Model: 8.95 lbs (4.06 kg) Paratrooper Model: 8.5 lbs (3.8 kg) |
| Caliber: | 5.56x45mm NATO (.223 Remington) |
| Barrel Length: | Standard Model: 17.7 inches (45 cm). Paratrooper Model: 14.3 inches (36.3 cm) |
| Overall Length: | Standard, Stock Extended: 39.25 inches (99.7 cm). Standard, Stock Folded: 30.2 inches (76.6 cm) Paratrooper Model, Stock Extended: 35.87 inches (91.1 cm). Paratrooper Model, Stock Folded: 26.77 inches (68.0 cm) |
| Action: | Gas operated (Rotating Bolt). |
| Mode of Fire: | Semi-Automatic, Three Round Burst, or Fully Automatic (Civilian Version Semi-Automatic). |
| Range: | 1333 feet (400 meters). |
| Magazine: | 5, 10, 20, 30, or 99 rounds. |
| Cost: | $ 1,200. |
| Made in: | Belgium (Manufacted in Indonesia and variant manufactered in Sweden as the AK5). |
| Special: | Can fire both three round bursts and fully automatic, folding butt stock, and can accept M-16 magazines. |
---
[ FN-FAL, FN CAL, FN-FNC, M-16, and Remington are copyright of their respective owners. ]
Writeup by Mischa (E-Mail Mischa ) and by Kitsune (E-Mail Kitsune).
Copyright © 2004, Mischa & Kitsune. All rights reserved.
---