Wildey [Automatic Pistol]: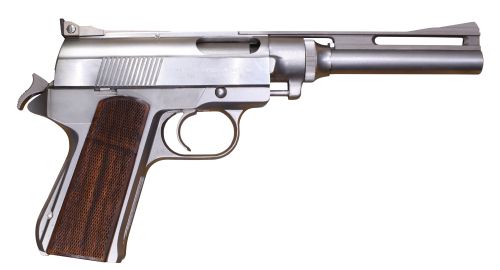 A behemoth handgun, the Wildey was first designed to fire the .45 Winchester Magnum, but over the years more and more types of ammunition were added. The Wildey functions with a gas operated rotating bolt, much like the Desert Eagle, though the execution of the design is rather different.
The Wildey is made from stainless steel, and can be had with different barrel lenghts and in different calibers. Workmanship, fit and finish are all of the highest quality, but the gun is not cheap either.
The only problems with the gun are its weight, and the fact that the Gas operated action may take some adjustment every time a new type of ammo is used.
All versions of the gun have a seven round magazine.
Weight: 4 lbs (1.8 kg)
Caliber: .45 Win Mag., .353 Wildey Mag, 10 mm Wildey Mag, 11 mm Wildey Mag, and .475 Wildey Mag (the last two are equal in power to the .50 AE)
Barrel: 5 to 12 inch (12.5 to 30 cm)
Action: Double / Single Action
Range: 250 ft (76.2 m)
Payload: 7 + 1
Cost: $ 1300
Made in: USA
Special: Good fit and finish, great accuracy, wide range of different models, very powerful, and very intimidating.
---
[ Wildey is copyright of its respective owners. ]
Writeup by Mischa (E-Mail Mischa ).
Copyright © 1999, Mischa. All rights reserved.
---