Walther PP / PPK [Automatic Pistol]: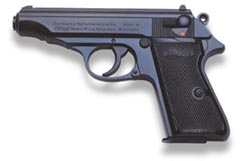 The Walther PP is without a doubt one of the best known guns in the world, and it was one of the first reliable handguns that featured a double action trigger. It was a big hit during its introduction in the 30`s, and even today it, and its smaller sibling the PPK (K meaning Kurz or Short) are popular backup guns. The quality, accuracy and fit are first rate, but the slightly anemic .38 ACP round that it fires has relegated it to the backup role in the seventies. Up to that time many European law enforcement agencies used it as their primary weapon, and it can still be found in great numbers on the used gun market.
The magazine holds seven rounds in .38 ACP for the PP, and six for the PPK
Weight: 1.47 lbs (0.67 kg) / 1.31 lbs (0.59 kg)
Caliber: .38 ACP
Barrel: 3.8 inch (9.5 cm) / 3 inch (7.5 cm)
Action: Double Action
Range: 165 ft (50 m)
Payload: 7 + 1
Cost: $ 540
Made in: Germany
Special: Good quality and finish, several versions and finishes available.
---
[ Walther PP and Walther PPK are copyright of their respective owners. ]
Writeup by Mischa (E-Mail Mischa ).
Copyright © 1999, Mischa. All rights reserved.
---