Vektor SP1 / SP2 [Automatic Pistol]: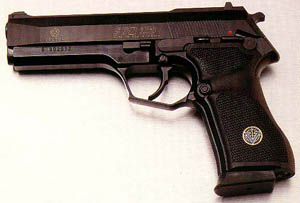 One of the guns coming out of South Africa now that that county can freely import and export weapons again. The Vektor SP (service pistol) series is not as radical a design as their smaller brother the CP1, instead beneath the finish the SP series has a very common design, based upon the early Berettas. What does stand out is the fit and finish, which is excellent. The barrel too is special, having a polygonal rifling instead of the normal lands and grooves. The SP can be had in several finishes and versions, up to and incluiding fully compensated raceguns with a single action trigger.
Lately the gun has also been made available in .40 S&W, with the 9 mm version being the SP1, and the .40 S&W version being the SP2.
The magazine holds sixteen rounds in 9 mm, and eleven in .40 S&W.
Weight: 1.76 lbs (0.8 kg)
Caliber: 9 mm / .40 S&W
Barrel: 5 inch (12.5 cm)
Action: Double Action
Range: 165 ft (50 m)
Payload: 15 + 1 / 11 + 1
Cost: $ 350
Made in: South Africa
Special: Good quality and finish, several versions and finishes available.
---
[ Vektor SP1, Vektor SP2, Berretta and .40 S&W are copyright of their respective owners. ]
Writeup by Mischa (E-Mail Mischa ).
Thanks to Mr. A. Schutte from South Africa for correcting my mistake with the name of the SP series, which had previously been labeled as the CP2.
Copyright © 1999, Mischa. All rights reserved.
---