Taurus PT908 / PT957 [Automatic Pistol]: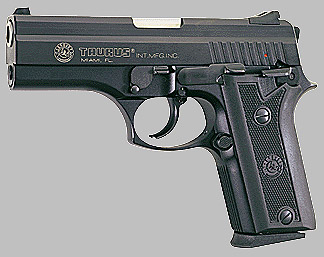 A medium sized combat gun, this pistol is reliable and sturdy. It is available in either the 9 mm or the .357 SIG cartridge, and would make a good duty gun. The PT908/957 is available in either blued steel or stainless steel finish.
Both versions of the gun have a ten round magazine.
Weight: 1.7 lbs (.77 kg)
Caliber: 9 mm / .357 SIG
Barrel: 3.75 inch (9.6 cm)
Action: Double Action
Range: 165 ft (50 m)
Payload: 10 + 1
Cost: $ 420
Made in: America and Brazil
Special: Good quality and finish. Available in blued steel or Stainless.
---
[ Taurus, PT908 and PT957 are copyright of their respective owners. ]
Writeup by Mischa (E-Mail Mischa ).
Copyright © 1999, Mischa. All rights reserved.
---