Taurus PT22 [Automatic Pistol]: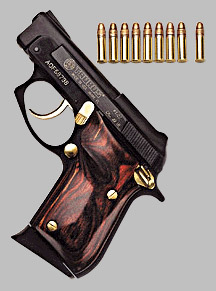 A very small pistol, this is a backup or purse gun. It has a tip-up barrel, for easy unloading and inspecting the gun. The usual good finish and quality apply to this product as well. The caliber of the pistol is .22 LR, and this is not exactly the most powerful of all the available cartridges, but this gun is for that last chance only anyway, and it is very concealable.
The PT22 uses a eight round magazine.
Weight: 0.77 lbs (0.35 kg)
Caliber: .22 LR
Barrel: 2.75 inch (6.88 cm)
Action: Double Action
Range: 165 ft (50 m)
Payload: 8 + 1
Cost: $ 203
Made in: America and Brazil
Special: Good quality and finish, very concealable.
---
[ Taurus and PT22 are copyright of their respective owners. ]
Writeup by Mischa (E-Mail Mischa ).
Copyright © 1999, Mischa. All rights reserved.
---