Taurus PT111 / PT140 [Automatic Pistol]: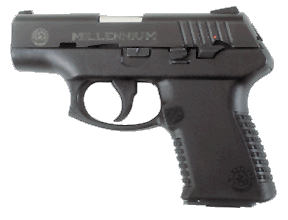 Taurus`s entry into the small combat pistol market, these little pieces display the usual good quality and workmanship which is natural for Taurus, and they will make good backup guns. Available in either 9 mm or .40 S&W calibers, these are quite powerful for their size. Their polymer frame makes them lighter than expected, and they have a stiff recoil. The slide can be blued or stainless.
Both versions of the gun have a ten round magazine.
Weight: 0.77 lbs (.35 kg)
Caliber: 9 mm / .40 S&W
Barrel: 3.25 inch (8.13 cm)
Action: Double Action Only
Range: 165 ft (50 m)
Payload: 10 + 1
Cost: $ 420
Made in: America and Brazil
Special: Good quality and finish. Available in blued steel or Stainless with a polymer frame.
---
[ Taurus, PT111, PT140 and .40 S&W are copyright of their respective owners. ]
Writeup by Mischa (E-Mail Mischa ).
Copyright © 1999, Mischa. All rights reserved.
---