Star Starlite [Automatic Pistol]: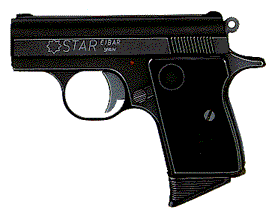 A small single action pocketgun made by Star, this weapon is not available on the American market. It is off all steel manufacture and quite easy to shoot. Like all of Star`s products, the quality is good. The caliber of the gun is the rather anemic .32 ACP.
The Starlite holds a six round magazine.
Weight: .88 lbs (.40 kg)
Caliber: .32 ACP
Barrel: 2 inch (5 cm)
Action: Single Action
Range: 165 ft (50 m)
Payload: 6 + 1
Cost: $ 260
Made in: Spain
Special: Good quality and finish. Available in blue or Starvel (brushed chrome) finish. Very compact and concealable.
---
[ Star, and Starlite are copyright of their respective owners. ]
Writeup by Mischa (E-Mail Mischa ).
Copyright © 1999, Mischa. All rights reserved.
---