Star Mega-Star [Automatic Pistol]: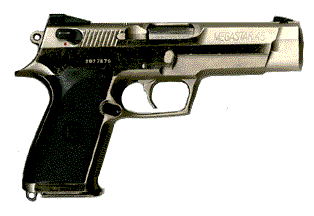 A large Double Action handgun, the Spanish Mega-Star is quite a handful. Its beefiness makes it very suitable for the calibers in which it is chambered, the .45 ACP, and the powerful 10 mm cartridges.
The gun is of good quality, and is more than accurate enough for a combat handgun, which it primarily is. A interesting feature is that the entire trigger assembly can be lifted out of the gun, to be replaced with a Single Action trigger assembly for those who prefer this. It should be noted that, although the gun can be had in two calibers, it is not possible to convert it from one caliber to the other.
The Mega-Star uses a twelve round magazine in its .45 ACP version, and a fourteen round magazine in its 10 mm version.
Weight: 3 lbs (1.35 kg)
Caliber: .45 ACP / 10 mm
Barrel: 5 inch (12.7 cm)
Action: Double action
Range: 165 ft (50 m)
Payload: 12 + 1 / 14 + 1
Cost: $ 650
Made in: Spain
Special: Good quality, a kit with a compensator and a Single Action trigger is optional, for those who want to use the gun for sporting purposes. It can be had in a Starvel (Brushed chrome) or a blued finish.
---
[ Star and Mega-Star are copyright of their respective owners. ]
Writeup by Mischa (E-Mail Mischa ).
Copyright © 1999, Mischa. All rights reserved.
---