Star M31 [Automatic Pistol]: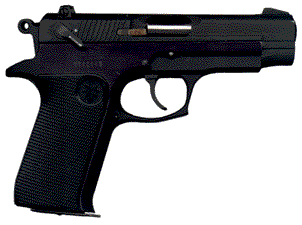 A medium framed combat gun, the M31 is a good buy for its price: not terribly expensive, it delivers reasonable accuracy, and is of good manufacture. It is also quite sturdy, and should stand up very well to a lot of use.
A earlier version of this gun has been adopted by the Spanish armed forces. The M31 is available in 9 mm and the .40 S&W caliber.
The M31 has a sixteen round magazine in 9 mm, and a twelve round magazine in .40 S&W.
Weight: 2.1 lbs (0.96 kg)
Caliber: 9 mm / .40 S&W
Barrel: 4 inch (10 cm)
Action: Double action
Range: 165 ft (50 m)
Payload: 16 + 1 / 12 + 1
Cost: $ 400
Made in: Spain
Special: Good quality, it can be had in a Starvel (Brushed chrome) or a blued finish.
---
[ Star and Star M31 are copyright of their respective owners. ]
Writeup by Mischa (E-Mail Mischa ).
Copyright © 1999, Mischa. All rights reserved.
---