Smith & Wesson Sigma [Automatic Pistol]: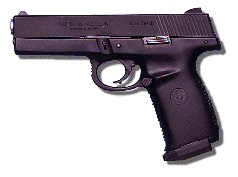 The Sigma was the gun that Smith & Wesson fielded to take a part of the lucrative polymer framed gun market away from the Glocks, who had dominated that market until then. Instead of being a instant hit, the Sigma stirred up a lot of controversy because a lot of parts were interchangable with those from the Glock guns. It was even possible to switch the slide/barrel assembly of the two guns and fire them! (note: DO NOT ATTEMPT THIS, IT IS POTENTIALLY DANGEROUS!). After a lot of legal battles with the Glock compagny the Sigma was still brought onto the market.
The gun is of reasonable fit and finish (there is a rather large gap between the frame and the slide for dirt to enter into), and it is made in both 9 mm and .40 S&W calibers.
In 9 mm it uses a sixteen round magazine, and in .40 S&W it uses a thirteen round magazine.
Weight: 1.63 lbs (.74 kg)
Caliber: 9 mm / .40 S&W
Barrel: 4 inch (10 cm)
Action: Double Action Only
Range: 165 ft (50 m)
Payload: 16 + 1 / 13 + 1
Cost: $ 400
Made in: USA
Special: Good quality, reasonable finish. Polymer frame.
---
[ Smith & Wesson, Sigma and Glock are copyright of their respective owners. ]
Writeup by Mischa (E-Mail Mischa ).
Copyright © 1999, Mischa. All rights reserved.
---