Smith & Wesson SW99 [Automatic Pistol]: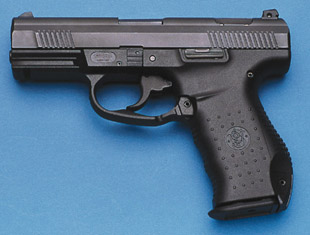 Smith & Wessons Sigma never really hit it off, being targeted for a market in which the Glock rules supreme. A redesign of the Sigma to incorporate a normal double action mechanism was not possible, and so S&W looked for other avenues to build a new gun. Their chance came through a combining of talent with the German firm of Walther. The Walther P99 is a good gun, but rather expensive, due to being build in Germany and having to be exported to the USA. The deal S&W made with Walther was that Walther would make the frames of the guns, and S&W would make the slide and barrel of the new gun. A few cosmetic changes were made to the P99 design, and the result is the SW99. This gun combines the quality and the innovation of the Walther P99 with the affordability of a gun made in the USA, and it looks like it can be a winner.
Unlike the Sigma the gun is of very good fit and finish (it should, it is after all essentially a German design...), and it is made in both 9 mm and .40 S&W calibers.
In 9 mm it uses a sixteen round magazine, and in .40 S&W it uses a ten round magazine.
Weight: 1.59 lbs (.72 kg)
Caliber: 9 mm / .40 S&W
Barrel: 4 inch (10 cm)
Action: Double Action
Range: 165 ft (50 m)
Payload: 16 + 1 / 10 + 1
Cost: $ 450 ?
Made in: USA, Germany.
Special: Good quality, Good finish. Polymer frame is made in Germany by Walther, Barrel and slide made by S&W.
---
[ Smith & Wesson, Walther, SW99, P99, Sigma and Glock are copyright of their respective owners. ]
Writeup by Mischa (E-Mail Mischa ).
Copyright © 1999, Mischa. All rights reserved.
---