Smith & Wesson Subcompact [Automatic Pistol]: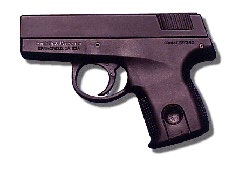 The Sigma Subcompact looks a bit like a baby Sigma, and this is not a bad way of thinking about it either. There are two versions of this gun. One fires the .380 ACP cartridge and the other is slightly larger and fires the 9mm cartidge. It is entirely without projections, and the only control is the trigger. Coupled with its small size and light weight this makes the Sigma Subcompact a perfect purse or backup gun.
The Sigma Sumcompact has no variants, and has a magazine that holds six rounds of .380 ACP or 7 rounds of 9 mm.
Weight: (.380 ACP) .88 lbs (.40 kg). (9 mm) 1.12 lbs (.51 kg)
Caliber: .380 ACP or 9 mm
Barrel: (.380 ACP) 3 inch (7.5 cm). (9 mm) 3.25 inch (8.25 cm)
Action: Double Action Only
Range: 165 ft (50 m)
Payload: (.380 ACP) 6 + 1. (9 mm) 7 + 1
Cost: $ 380
Made in: USA
Special: Good quality, reasonable finish. Polymer frame, very lightweight and highly concealable.
---
[ Smith & Wesson and SW380 are copyright of their respective owners. ]
Writeup by Mischa (E-Mail Mischa ).
Copyright © 1999, Mischa. All rights reserved.
---