Smith & Wesson Automatic Model 6904/6906/6946 [Automatic Pistol]: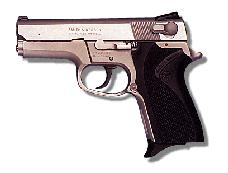 These guns are the compact versions of the 5900 series. They are all made of stainless steel with a alloy frame, exept for the 6904 which has a blued finish. The 6946 is a double action only version. All of these guns are of good quality and manufacture, and are small enough to be reasonably concealable.
All of these guns use the same twelve round magazine.
Weight: 1.46 lbs (.67 kg)
Caliber: 9 mm
Barrel: 3.5 inch (8.75 cm)
Action: Double Action / Double Action Only
Range: 165 ft (50 m)
Payload: 12 + 1
Cost: $ 635
Made in: USA
Special: Good quality and finish. Several options available, incluiding adjustable sights.
---
[ Smith & Wesson, model 6904, model 6906, and Model 6946 are copyright of their respective owners. ]
Writeup by Mischa (E-Mail Mischa ).
Copyright © 1999, Mischa. All rights reserved.
---