Smith & Wesson Automatic Model 5903/5904/5906/5946
[Automatic Pistol]: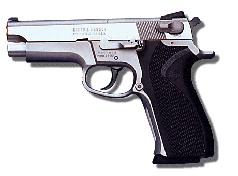 These are the standard sized 9 mm handguns in Smith & Wessons inventory. They have been adopted by several police agencies, including the LAPD. The main differences between the guns is that the 5906 is a double action all stainless steel gun, the 5903 and the 5904 have a alloy frame which lowers the weight to 28.5 oz., the 5946 is a double action only gun, and the 5904 has a blued finish. All of these guns are of good quality and manufacture.
All of these guns use the same fifteen round magazine.
Weight: 2.4 lbs (1.09 kg) / 1.8 lbs. (.82 kg)
Caliber: 9 mm
Barrel: 4 inch (10 cm)
Action: Double Action / Double Action Only
Range: 165 ft (50 m)
Payload: 15 + 1
Cost: $ 700
Made in: USA
Special: Good quality and finish, all stainless steel manufacture. Several options available, incluiding adjustable sights.
---
[ Smith & Wesson, model 5903, model 5904, model 5906 and Model 5946 are copyright of their respective owners. ]
Writeup by Mischa (E-Mail Mischa ).
Copyright © 1999, Mischa. All rights reserved.
---