Smith & Wesson Automatic Model 3913 / 3913 Ladysmith / 3953
[Automatic Pistol]: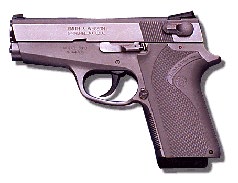 These pistols are basically compact versions of standard combat guns, but the shape of their frame and their slim profile make them well suited as purse guns, or for people with small hands (No doubt this is why S&W called this version the Ladysmith). The pistols are stainless steel manufacture, and can be purchased with a choise of pastel colored frames, the color is part of the metal, a anodized finish.
The 3953 is a double action only version, but both guns employ a eight round magazine.
Weight: 1.6 lbs (.71 kg)
Caliber: 9 mm
Barrel: 3.5 inch (8.75 cm)
Action: Double Action
Range: 165 ft (50 m)
Payload: 8 + 1
Cost: $ 650
Made in: USA
Special: Good quality and finish, all steel, different colors available, slim profile.
---
[ Smith & Wesson, Model 3913, and model 3953 are copyright of their respective owners. ]
Writeup by Mischa (E-Mail Mischa ).
Copyright © 1999, Mischa. All rights reserved.
---