SIG SP2340 (SIG PRO) [Automatic Pistol]: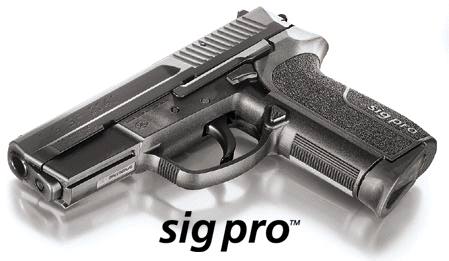 The SIG Pro is the first pistol from SIG with a polymer frame, and it shows all the signs of being as good a winner as the P226. The slide is made of blackened stainless steel, the frame is black polymer. The handgrip is not molded into the frame, like on most polymer framed guns, but is a separate piece. By changing the grip plate the gun can be adjusted to the size of ones hands. The Action can be changed from either Double Action to Double Action Only, although this is a minor operation, it must be performed by a gunsmith. Molded in the lower front of the frame are rails for mounting a lasersight or a flashlight. On the left side of the frame is the usual decocking lever. The gun is made with the same high standards as all SIG guns, and as usual accuracy and reliability are tops.
The caliber of the gun can be changed by switching barrels. The same magazine will hold twelve rounds of either .357 SIG ammo, or twelve rounds of .40 S&W ammo.
Weight: 1.96 lbs (.89 kg)
Caliber:.357 SIG / .40 S&W
Barrel: 4 inch (10 cm)
Action: Double Action / Double Action Only
Range: 165 ft (50 m)
Payload: 12 + 1
Cost: $ 570
Made in: Switzerland
Special: Good Quality, high degree of reliability, and very accurate. Lightweight polymer frame
---
[ SIG, SIG SP2340, and SIG PRO are copyright of their respective owners. ]
Writeup by Mischa (E-Mail Mischa ).
Copyright © 1999, Mischa. All rights reserved.
---