SIG P226 [Automatic Pistol]: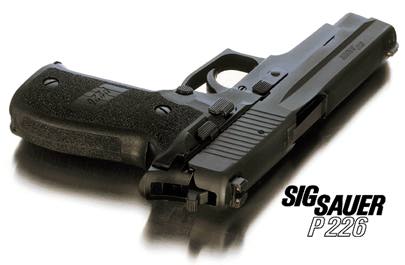 The P226 is a high capacity sibling of the P220, and shares that guns high quality, reliability and accuracy. Originally it was designed to enter in the early eighties US army trials for a new handgun, but no clear decision was made then. After that the gun was offered to the public, and gained widespead acceptance among police forces and civilians alike. In the early nineties it competed again in US army trials, the P226 outperformed all other competitors, and only lost to the Beretta M92 due to the difference in price. Although the US army did not select the P226, one very special source DID: The British SAS (Special Air Service) adopted the gun in the early nineties as a replacement for their beloved Browning High Power. The P226 has sometimes been referred to as the standard to which all other high capacity 9 mm combat pistols are measured. As with all SIG guns there is a decocking lever on the left side of the frame.
Nowadays the P226 is available in the 9 mm, .357 SIG and .40 S&W calibers, with a magazine capacity of 15 for the 9 mm, and 13 for the .356/.40 respectively. For law enforcement personell a set of larger magazines is available, 20 rounds for the 9 mm, and one with 16 rounds in the .357/.40 calibers.
A target version and a compensated version are also available, as are different finishes.
Weight: 1.6 lbs (.74 kg)
Caliber: 9 mm / .357 SIG / .40 S&W
Barrel: 4.5 inch (11.27 cm)
Action: Double Action / Double Action Only
Range: 165 ft (50 m)
Payload: 15 + 1 / 13 + 1 (20 + 1 / 16 + 1)
Cost: $ 750
Made in: Switzerland
Special: Good Quality, high degree of reliability, and very accurate, different versions and finishes being available.
---
[ SIG, SIG P226, Beretta M92 and Browning High Power are copyright of their respective owners. ]
Writeup by Mischa (E-Mail Mischa ).
Copyright © 1999, Mischa. All rights reserved.
---