SIG P220 [Automatic Pistol]: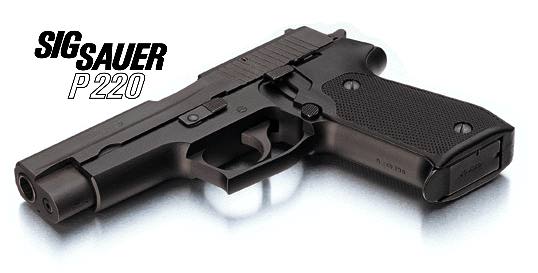 The P220 was first introduced in the mid seventies, and it was adapted by several armed forces as their standard sidearm. The gun is, despite being partially made from sheet steel, of very high quality, and is very accurate. The P220 became the father of one of the most succesful series of pistols in the world, each of which is marked by its good ergonomics, utter reliability and good accuracy. On the left side of the frame is a decocking lever.
The P220 is available in either 9 mm or .45 ACP, with the 9 mm using nine round magazines, and the .45 ACP using seven round magazines.
Weight: 1.65 lbs (.75 kg)
Caliber: 9 mm / .45 ACP
Barrel: 4.5 inch (11.27 cm)
Action: Double Action / Double Action Only
Range: 165 ft (50 m)
Payload: 9 + 1 / 7 + 1
Cost: $ 750
Made in: Switzerland
Special: Good Quality, high degree of reliability, and very accurate.
---
[ SIG and SIG P220 are copyright of their respective owners. ]
Writeup by Mischa (E-Mail Mischa ).
Copyright © 1999, Mischa. All rights reserved.
---