SIG P210 [Automatic Pistol]: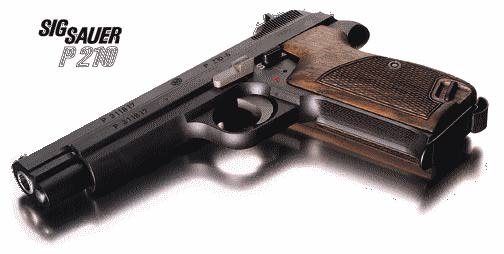 The P210 was adopted in 1947 as the standard sidearm for the Swiss army. It was one of the first pistols to feature a slide that ran within the frame, and this feature, coupled with the high standards of manufacture used to make the pistol made it highly accurate. It has even been remarked upon as being the most accurate pistol in 9 mm that you can buy right out of the box. However, this quality, coupled with a machined steel frame, also make this one of the more expensive pistols in 9 mm that you can buy.
The P210 uses a eight round magazine, and can be had with adjustable sights.
Weight: 1.7 lbs (.77 kg)
Caliber: 9 mm
Barrel: 4.75 inch (11.88 cm)
Action: Single Action
Range: 165 ft (50 m)
Payload: 8 + 1
Cost: $ 2,100
Made in: Switzerland
Special: Great Quality, high degree of reliability, extremely accurate and all steel construction.
---
[ SIG and SIG P210 are copyright of their respective owners. ]
Writeup by Mischa (E-Mail Mischa ).
Copyright © 1999, Mischa. All rights reserved.
---