Ruger P94 [Automatic Pistol]: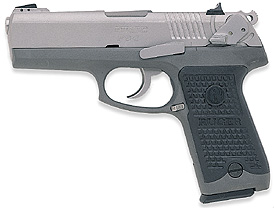 A sleeker, slightly more compact version of the P89, the P94 is rather better looking, but of the same quality and price of the P89. Unlike the P89 the P94 is not only available with the usual choise of Actions and safety arrangements, but is also available in the more powerful .40 S&W caliber.
The 9 mm version uses a fifteen round magazine, and the .40 S&W version uses a twelve shot magazine.
Weight: 1.9 lbs (.88 kg)
Caliber: 9 mm / .40 S&W
Barrel: 4.25 inch (10.63 cm)
Action: Double Action / Double Action Only
Range: 165 ft (50 m)
Payload: 15 + 1 / 12 + 1
Cost: $ 520
Made in: USA
Special: Good quality, reliable, lots of different options for finishes and nicely sleek.
---
[ Ruger, Ruger P94 and Ruger P89 are copyright of their respective owners. ]
Writeup by Mischa (E-Mail Mischa ).
Copyright © 1999, Mischa. All rights reserved.
---