Ruger P905 [Automatic Pistol]: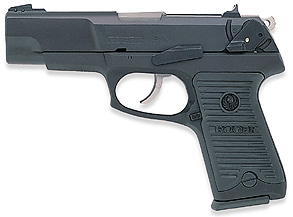 The .45 ACP version of the P89 from Ruger, this gun is of good quality, is reliable, and not very expensive. It is available in several Action modes, Double Action, and Double Action Only. There is also a choise in the safety arrangements of the gun, and different finishes are also available.
The P90 uses seven round magazines.
Weight: 2.1 lbs (.95 kg)
Caliber: .45 ACP
Barrel: 4.5 inch (11.27 cm)
Action: Double Action / Double Action Only
Range: 165 ft (50 m)
Payload: 7 + 1
Cost: $ 500
Made in: USA
Special: Good quality, reliable.
---
[ Ruger, Ruger P90 and Ruger P89 are copyright of their respective owners. ]
Writeup by Mischa (E-Mail Mischa ).
Copyright © 1999, Mischa. All rights reserved.
---