Para-Ordnance LDA [Automatic Pistol]: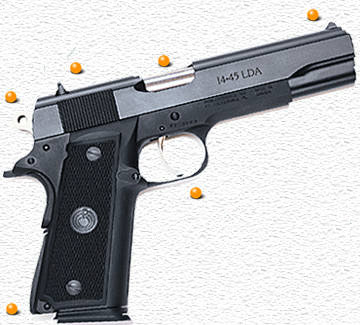 Para-Ordnance have been long known as the makers of Colt M1911 clones with a high magazine capacity. Although the LDA at first looks to be just another one of these clones, it is in fact a very different gun, for the LDA is a Double Action design! With this gun Para-Ordnance have done what Colt hasn`t been able to do succesfully in several decades, namely, to make a double action version of the M1911.
Currently the gun can be had in only three versions, to wit: a .45 ACP version, a .40 S&W version, and a 9 mm version. As with all Para-Ordnance guns these weapons are of good quality, and very reliable. They should be highly customizable, just like the Colt M1911. The basic versions of the gun will be delivered in black carbon steel.
The magazine of the LDA holds 14 rounds of .45 ACP, sixteen rounds of .40 S&W, and eighteen rounds of 9 mm ammo.
Weight: 3.0 lbs (1.4 kg)
Caliber: .45 ACP, .40 S&W, 9 mm
Barrel: 5 inch (12.7 cm)
Action: Double Action
Range: 165 ft (50 m)
Payload: 14 + 1 / 16 + 1 / 18 + 1
Cost: ? (brand new, no market price yet)
Made in: Canada.
Special: Currently three versions available. Very customizable, just like the M1911. High capacity, good quality, reliable.
---
[ Para-Ordnance, LDA, Colt and M1911A1 are copyright of their respective owners. ]
Writeup by Mischa (E-Mail Mischa ).
Copyright © 1999, Mischa. All rights reserved.
---