Magnum Research Desert Eagle [Automatic Pistol]: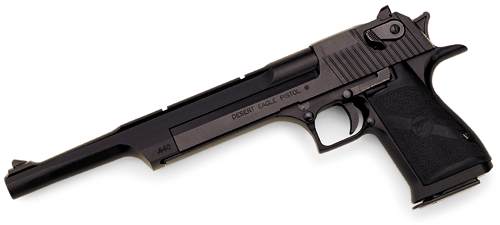 A truly huge handgun with a very intimidating look, made by Magnum Research. The pistol has a gas operated action, and features easily interchangable barrels of various lengths and calibers. A change requires nothing more than switching a barrel and a magazine.
Originally the gun was made in the .357 Magnum caliber, but nowadays it is also available in .44 Magnum, the .50 Action Express, and the new .440 Cor-Bon cartridge. The .440 Cor-Bon variant makes this the most powerful pistol in the world at this time. In all but the .50 and .440 calibers the gun is surprisingly light to shoot, but in the most powerful calibers it begins to kick harder. The gun can be had in a variety of finishes, and adjustable sights are optional. on top of each barrel is a weaver type rail for mounting a long eye-relief scope for hunting.
Depending on caliber the magazine holds nine, eight, or seven rounds. Pictured is the pistol in .440 Cor-Bon, with a 10 inch barrel.
Weight: 5 lbs (2.27 kg)
Caliber: .357 Magnum, .44 Magnum, .50 AE, .440 Cor-Bon
Barrel: 6 inch (15 cm) / 10 inch (25 cm)
Action: Single Action
Range: 165 ft (50 m)
Payload: 9 + 1 (.357), 8 + 1 (.44), 7 + 1 (.50 / .440)
Cost: $ 980 for a pistol, Alternate barrels cost $ 300, and alternate bolt assembly costs $ 170, with the .44, the .50 and the .440 all using the same bolt assembly)
Made in: USA
Special: Available in a large amount of finishes (yes, 24 carat gold finish available too) and calibers, high quality construction. Very reliable and accurate, a very flashy and intimidating gun.
---
[ Magnum Research, Desert Eagle and .440 Cor-Bon are copyright of their respective owners. ]
Writeup by Mischa (E-Mail Mischa ).
Copyright © 1999, Mischa. All rights reserved.
---