Lorcin Model L9MM [Automatic Pistol]: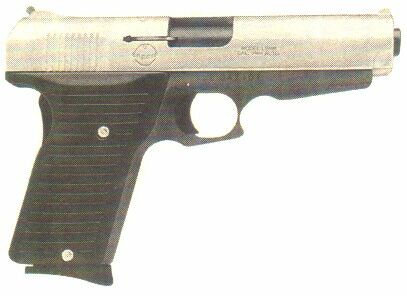 A single action pistol made by Lorcin. This gun is commonly thought rather poorly of, it is of mediocre manufacture at best. Despite this, large numbers of these guns can be found on the street, due to low security at the manufacturing plant.
The gun uses a ten round magazine
Weight: 1.93 lbs (0.88 kg)
Caliber: 9 mm
Barrel: 4.5 inch (11.27 cm)
Action: Single Action
Range: 165 ft (50 m)
Payload: 10 + 1
Cost: $ 189
Made in: USA
Special: Low quality and mediocre in both accuracy and reliability. A kind of "Saturdaynight Special" kind of gun. Still, it IS cheap, and can be relatively easily found on the street.
---
[ Lorcin and Lorcin L9MM are copyright of their respective owners. ]
Writeup by Mischa (E-Mail Mischa ).
Copyright © 1999, Mischa. All rights reserved.
---