Kareen MK II [Automatic Pistol]: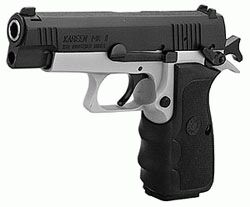 Basically a clone of the Browning High Power, the kareen was originally made for the Israely Army. Because it had to be able to fire the hot 9 mm loads that the Israelies fire in their UZI submachine guns, the Kareen was build stronger than the original High Power. This came in handy when the gun was converted to fire the .40 S&W cartridge too.
The Kareen is available in a handsome duotone finish, and its all steel construction should be more than sturdy enough to handle huge amounts of ammo, ensuring a long life. The magazine holds 13 shots of 9 mm, and 10 shots of .40 S&W.
Weight: 2.125 lbs (.96 kg)
Caliber: 9 mm / .40 S&W
Barrel: 4.6 inch (11.5 cm)
Action: Single Action
Range: 165 ft (50 m)
Payload: 13 + 1 / 10 + 1
Cost: $ 430
Made in: Israel
Special: Wraparound rubber combat grip standard, all steel construction.
---
[ Kareen MK II is copyright of its respective owners. ]
Writeup by Mischa (E-Mail Mischa ).
Copyright © 1999, Mischa. All rights reserved.
---