Heckler & Koch USP Expert [Automatic Pistol]: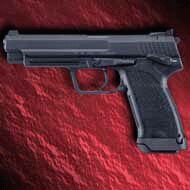 The USP Expert was developed to serve as a gun for the Action Shooting sport. All versions feature a elongated slide, a large magazine well, a special barrel bushing like the one on the SOCOM gun, fully adjustable sights, and a adjustable triggerstop.
Like the USP the Expert is available in three calibers, 9 mm, .40 S&W, and .45 ACP, with the .45 ACP version having slightly larger dimensions than the smaller calibers.
Weight: 1.88 lbs (.85 kg)
Caliber: 9 mm, .40 S&W, .45 ACP
Barrel: 5.28 inch (13.2 cm)
Action: Double action / Single action adjustable.
Range: 165 ft (50 m)
Payload: 15 + 1, 12 + 1, 12 +1
Cost: $ 800 to $ 1.050
Made in: Germany
Special: Very reliable, integral equipment rails, special recoil buffer, very accurate, special barrel bushing, adjustable sights, triggerstop and large magazine well for easy reloading.
---
[ Heckler & Koch, USP, USP Expert and SOCOM are copyright of their respective owners. ]
Writeup by Mischa (E-Mail Mischa ).
Copyright © 1999, Mischa. All rights reserved.
---