Heckler & Koch USP [Automatic Pistol]: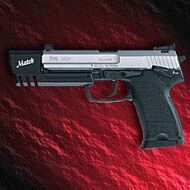 The H&K USP (Universal Selfloading Pistol) is the civilian version of the SOCOM gun, and is somewhat smaller and handier than the SOCOM gun. It is build along the same lines, and should be nearly as indestructible as its larger brother. The one thing that the USP lacks is the special ring on the barrel, however, accuracy is still very good with these guns.
The USP is available in three calibers, 9 mm, .40 S&W, and .45 ACP, with the .45 ACP version having slightly larger dimensions than the smaller calibers. A target version in all of the three calibers is also available, this features a longer barrel, additional weights for better balance, and adjustable sights. (pictured above left is the standard version, right is the target version.)
The USP has been accepted as the new service gun for the German Army.
Weight: 1.88 lbs (.85 kg)
Caliber: 9 mm, .40 S&W, .45 ACP
Barrel: 4.13 inch (10.3 cm), 5 inch (12.5 cm) for target version.
Action: Double action / Single action adjustable.
Range: 165 ft (50 m)
Payload: 15 + 1, 12 + 1, 10 +1
Cost: $ 800 to $ 1.050
Made in: Germany
Special: Smaller, more handy version of the SOCOM gun, very reliable, integral equipment rails, special recoil buffer, very accurate. Target version available.
---
[ Heckler & Koch, USP and SOCOM are copyright of their respective owners. ]
Writeup by Mischa (E-Mail Mischa ).
Copyright © 1999, Mischa. All rights reserved.
---