Heckler & Koch SOCOM [Automatic Pistol]: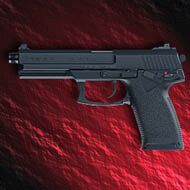 When the US armed forces SOCOM (Special Operations Command) began looking for a new sidearm for groups like the Navy SEALS, several compagnies submitted a gun. Ultimately the H&K gun was chosen as the new sidearm. Conform with the wishes of SOCOM, the gun is chambered in the .45 ACP caliber, and is capable of withstanding firing heavy loads. The barrel is threaded and will accept a silencer, it has a special ring in front for better lockup with the slide, and a attachment for a combined Laser/Infrared spotlight is molded into the front of the polymer frame. The magazine holds 12 rounds, and is made of stainless steel. The gun also features a special double recoil spring, which helps to reduce felt recoil.
The entire gun is resistant to saltwater spray, will function after having been dragged through mud, and in general the gun had to withstand a battery of tests so harsh, that it is safe to say that with normal use the gun is indestructible.
The most heard complaint about the gun is that it is too big for comfortable carry, and it is rumored that several Navy SEAL members now carry the H&K USP in .45 ACP, which has been derived from the SOCOM gun, but is somewhat more handy. The only modification they have done to the USP is the fitting of a threaded barrel for the silencer.
Weight: 2.5 lbs (1.14 kg)
Caliber: .45 ACP
Barrel: 5 inch (12.5 cm)
Action: Double action / Single action adjustable.
Range: 165 ft (50 m)
Payload: 12 + 1
Cost: $ 2,200
Made in: Germany
Special: Threaded barrel for silencer, special recoil buffer system, Reliable under ANY circumstances, highly resistant to wear, very accurate, Polymer frame, very accurate, adapted by US Army Special Operations Command.
---
[ Heckler & Koch and SOCOM are copyright of their respective owners. ]
Writeup by Mischa (E-Mail Mischa ).
Copyright © 1999, Mischa. All rights reserved.
---