Heckler & Koch P7M8 / P7M13 [Automatic Pistol]: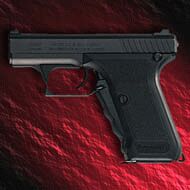 One of the more unusual designs on the market, even more than 20 years after its introduction, the H&K P7 series of guns use a gasdelayed blowback to lock the barrel, and a unique grip lever to secure and cock the gun.
The lever occupies the entire front of the grip, and as long as it is not depressed, the gun is totally inert, with all safeties engaged, and the striker (firing pin) not under tension. When it is depressed by gripping the gun firmly, the safeties are disengaged and the striker is put under tension. Pulling the trigger will now fire the gun. When the slide is locked back because the magazine is empty, releasing the pressure on the lever and putting pressure on it again will release the slide. The grip itself requires some twelve pounds of pressure to be engaged, but thanks to a smart system of springs, only four pounds to KEEP under tension.
Depending on the designation, the magazine holds either 8 or 13 rounds. Several police forces adapted the M13 variant for duty, but the high price has kept it out of most people`s range. A few years back a limited run of classy looking nickel plated P7M13`s was made, which were shipped in a nice wooden display box, but this was a limited series, and the vast majority of the guns have a no frills Baked on polymer finish.
All in all the high quality, good accuracy and ergonomics and the all steel construction justify the price, although it is a telltale sign that H&K have now brought the cheaper USP series on the market. For the time being construction of the P7 series continues.
Weight: 1.65 lbs (0.75 kg)
Caliber: 9 mm
Barrel: 4 inch (10 cm)
Action: Double action Only.
Range: 165 ft (50 m)
Payload: 8 + 1 (P7 M8)/ 13 + 1 (P7 M13)
Cost: $ 1,120 (P7 M8) / $ 1,280 (P7 M13)
Made in: Germany
Special: Unique squeeze cocking system, all steel manufacture, very accurate, compact and reliable.
---
[ Heckler & Koch and P7M8 and P7M13 are copyright of their respective owners. ]
Writeup by Mischa (E-Mail Mischa ).
Copyright © 1999, Mischa. All rights reserved.
---