European American Armory / Tanfoglio Witness [Automatic Pistol]: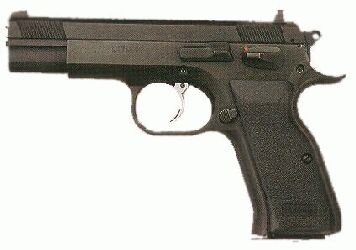 Based upon the CZ-75, the EEA Witness is made in Italy by Tanfoglio (Who also sell the gun under their own brand name). It is a modern gun, available in a lot of calibers which are all based upon the same frame. The 9 mm version is available with a 16 round magazine, while all the other calibers have a 10 round magazine. Compact versions and conversion kits are available, as are a lot of finishes.
Weight: 2.2 lbs (1.1 kg)
Caliber: 9 mm (.40 S&W, .45 ACP, .38 Super, 10 mm)
Barrel: 4.75 inch (12 cm)
Action: Double Action
Range: 165 ft (50 m)
Payload: 16 + 1 (10 + 1)
Cost: $ 350, $ 225 for conversion kits(consists of a magazine, a barrel and sometimes a slide)
Made in: Italy
Special: Available in a huge amount of different versions and finishes, the factory also offers limited amounts of Action Event type pistols with full compensators, larger magazines, and rails for optical sights. A version known as the EEA Lady Witness is a compact version, made of stainless steel, with Ivory grip plates with a red bud rose laser etched into them (VERY Classy looking).
---
[ European American Armory, Tanfoglio, EEA Witness, EEA Lady Witness are all copyright of their respective owners. ]
Writeup by Mischa (E-Mail Mischa ).
Copyright © 1999, Mischa. All rights reserved.
---