CZ-97B [Automatic Pistol]: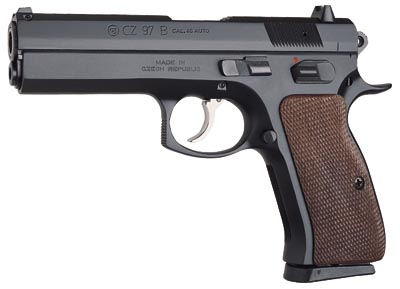 A double action semi automatic pistol made in the Czech republic, this is the first CZ gun in .45 ACP. Instead of the Italian firm of Tanfoglio who produce CZ-75 clones in .45 ACP, the Czechs did not merely upscale their CZ-75, but gave the gun some new features to better withstand the powerful .45 ACP. The first of these is the barrel to slide lockup. Where this was first done with lugs on the barrel/slide, the new gun locks up through a solid barrel/ejection port fit, like the Sig line of guns. The barrel bushing is now of a screw-in type. Also the frame was lengthened, so that the slide is now completely riding inside the frame along its entire length.
The CZ 97B is a large gun, and not very suited to persons with small hands. On the other hand, it is strong enough to stand up to a lot of firing, is pretty accurate right out of the box, and has good fit and finish. It would make a good duty gun for the military, or police forces. With some work it would also be suited for I.S.P.C work.
The magazine for the CZ-97B holds ten rounds of ammunition.
Weight: 2.49 lbs (1.13 kg)
Caliber: .45 ACP
Barrel: 4.85 inch (12.3 cm)
Action: Double Action
Range: 165 ft (50 m)
Payload: 10 + 1
Cost: $ 640.
Made in: Czech Republic
Special: Good solid handgun. Good reliability, fit and finish. A nice duty handgun.
---
[ CZ-97B is copyright of its respective owners. ]
Writeup by Mischa (E-Mail Mischa ).
Copyright © 1999, Mischa. All rights reserved.
---