CZ-75 [Automatic Pistol]: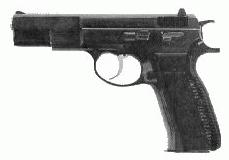 A double action semi automatic pistol made in the Czech republic, it nearly became legendary by being the first ComBloc made gun in 9 mm. Added to that were its good ergonomics and high capacity (in the 70`s 15 shots was a lot for most guns) and its poor availability in the US, and it was a instant hit with gunners anxious to get their hands on the first Wondernine from one of the Warsaw Pact countries.....
If being copied if being flattered, this design must be the best in the world, right next to the Colt M1911A1. In reality it is simply a good gun, with no frills, and a good track record. The factory is rumored to be working on a .45 ACP version of the gun.
Weight: 2.2 lbs (1.1 kg)
Caliber: 9 mm (.40 S&W)
Barrel: 4.75 inch (12 cm)
Action: Double Action
Range: 165 ft (50 m)
Payload: 15 + 1
Cost: $ 540.
Made in: Czech republic
Special: Nothing really, good, reliable, but not more so than most modern guns.
---
[ CZ-75 is copyright of its respective owners. ]
Writeup by Mischa (E-Mail Mischa ).
Copyright © 1999, Mischa. All rights reserved.
---