CZ 100 [Automatic Pistol]: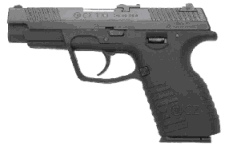 The CZ-100 is a Double Action Only gun from the makers of the CZ 75. To this is added a polymer frame, and you will have a good gun. Or so they thought. Unfortunately this gun suffers from some second rate worksmanship, and because of this, reliability and accuracy are not all that great. Add to this that the futuristic looks feel in the hand like a cheap toy, and one starts to realize that maybe the Czechs should have stuck to all steel guns, instead of catering to all those with a polymer fetish....
Fortunately in the later guns the worksmanship has picked up, and the guns are now reliable, but they still are nothing special.
The CZ-100 has a magazine for thirteen rounds of 9 mm ammo, and the .40 S&W verion holds twelve rounds.
Weight: 1.5 lbs (.68 kg)
Caliber: 9mm / .40 S&W
Barrel: 3.75 inch (9.38 cm)
Action: Double Action / Double Action Only
Range: 165 ft (50 m)
Payload: 13 + 1 / 12 + 1
Cost: $ 389
Made in: Czech Republic
Special: Lightweight polymer frame, mediocre workmanship.
---