Browning BDM [Automatic Pistol]: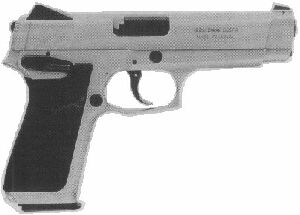 The latest design from Browning, this is a slim 9mm gun with a standard Double Action, which can be switched to Double Action Only by turning a screw on the left side of the slide.
Weight: 1.9 lbs (0.86 kg)
Caliber: 9 mm
Barrel: 4.73 inch (11.3 cm)
Action: Selective Double Action / Double action Only.
Range: 165 ft (50 m)
Payload: 15 + 1
Cost: $ 570
Made in: USA.
Special: Adjustable sights standard, different finishes available.
---
[ Browning and Browning BDM are copyright of their respective owners. ]
Writeup by Mischa (E-Mail Mischa ).
Copyright © 1999, Mischa. All rights reserved.
---